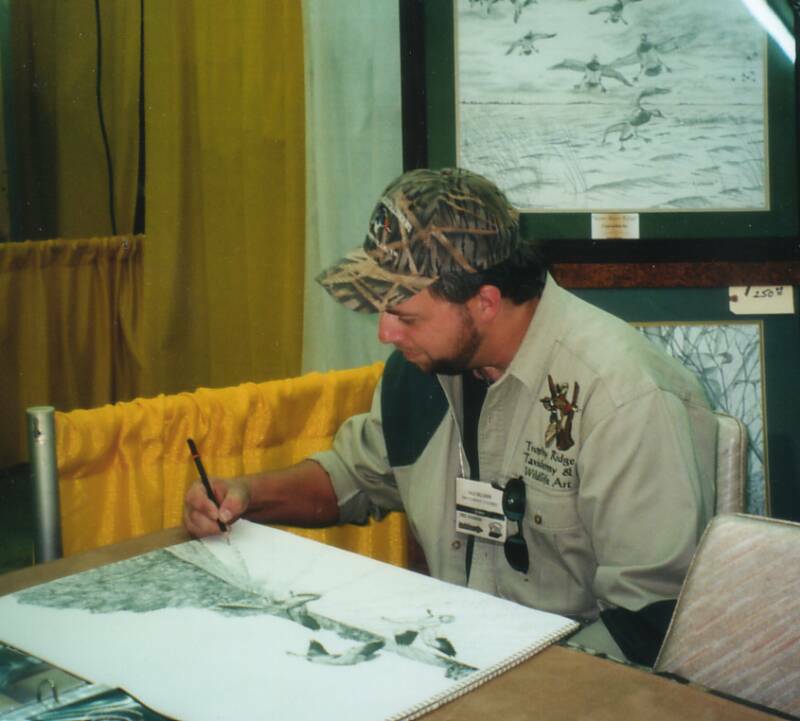 As an avid outdoorsman, wildlife artist and taxidermist, Dale Selchow brings art and nature together both in creative mounts and in works of art.  Born in 1966 in Wisconsin, nature was always at his back door.  Marsh scenes, open lakes and great pheasant cover were all within 10 miles of his house.  At a early age he began studying art and nature , making notes and sketches of different species he'd see.            

           At the age of 10 the family moved to Arkansas where the flooded timber and flooded rice fields of the Stuttgart area captured his attention.  Known for his waterfowl paintings and pencil art,  he fine tuned the talent for detail  for the next few years and moved to Tennessee.  There he began to compete in art contests and take the art to the public.  Today Dale owns and operates Trophy Ridge Taxidermy and Wildlife Art.

             Bringing nature into every home in the world is his goal.  Life is too fast paced sometimes and he feels that if his painting and drawings can take you away for a while then he has done his job.  The Creator gave us nature to enjoy.  Dale just brings it to the canvas. 

             We hope you enjoy the pictures and invite you to check back to see what new works are coming available.   If you wish to purchase prints or originals , please call 1-615-826-9977 or e-mail us at troridge@bellsouth.net.     Thanks for stopping by.   

All work on this website is protected by copywrite and may not be used for any purpose without the artist's permission and the staff of Trophy Ridge Taxidermy.  Thank you.